MasBar - PISANG RAI (Balinese Boiled Banana with Grated Coconut)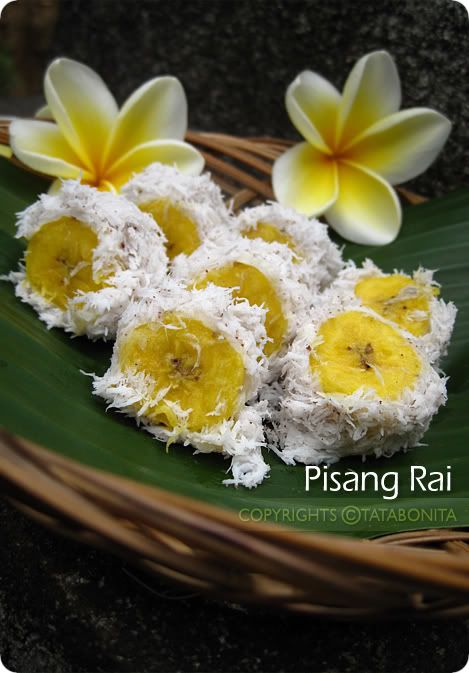 I've
missed
MasBar
event twice (or more? ;p), so I need to get back on the right track. This month's theme is quite interesting, Banana. Banana is one of staple ingredients for Indonesian traditional snacks; the most popular one is
Pisang Goreng
(Fried Banana). In my family, the second most favorite one is
Pisang Rebus
or
Pisang Kukus
(steamed banana). For
Masbar
entry, I come across with
Pisang Rai
(Balinese Boiled Banana with Grated Coconut). I made this Balinese traditional snack when I was home couples of month ago - hence, all I need to do are only writing the recipe and editing the photos :D.
This
is my very first time making
Pisang Rai
that I follow all the suggested instructions and ingredients in the cookbook - except (may be) for the kind of the banana used. The cookbook suggest to use
Pisang Raja
(if I translate it loosely into English it'll be: King Banana, LOL!) and
Pisang Kepok Tua
. I used banana whose picture you can see below – I don't know what it's called, anyone? Indonesian fellows? I can only call it: this/that banana, hehehe (poor vocabulary mastery :p). In Indonesia, a kind of banana can have some names (Indonesian name, Javanese name, Sumatran name, etc etc etceteraaaa…. *dizzy* --> you know lah, Indonesia has thousands of islands with numerous ethnics of people with different regional languages. But that's the beauty possessed by Indonesia :D). I got the recipe from my cookbook collection:
"

Jajanan Kaki Lima khas Bali

" by Linda Carolina Brotodjojo
.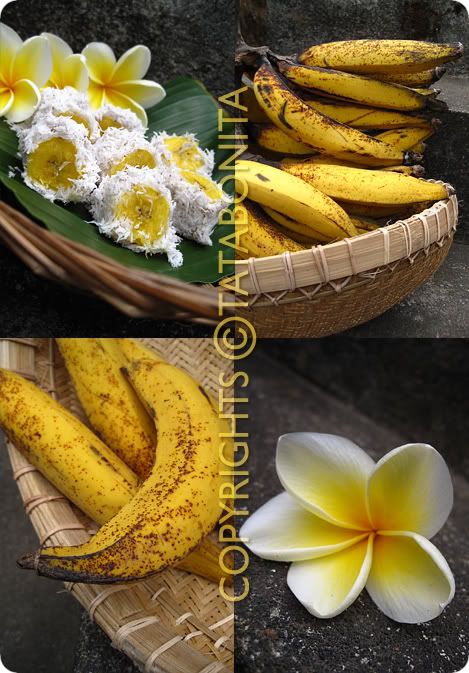 PISANG RAI

Balinese Boiled Banana with Grated Coconut






Ingredients:


4 ripe bananas (

pisang raja

,

pisang kepok tua

, or you can use plantain)
Water, to boil the bananas (for this one, use your

"feeling-o-meter"

:D)
100 gram grated coconut, steamed with a pinch of salt (peel the brown outer layer)
4

pandan leaves

or screwpine leaves, knotted
Salt to taste



Batter:


70 gram rice flour
70 ml water
½ tsp sugar
Salt to taste



Instructions:


Bring to boil water, add in salt and knotted screwpine leaves. Meanwhile, make the batter: mix well rice flour, water, sugar, and salt in a bowl. Put the peeled bananas into the batter. Coat the bananas with the batter evenly then transfer them into the boiling screwpine leaves water. Boil the bananas until done and floating. Coat the cooked bananas with steamed grated coconut evenly and cut as you desire. Enjoy!



Note:

I got confused too about the exact measurement of the water for boiling the bananas. In the cookbook, it's only stated: water, to boil the bananas (???). So, I used my

feeling-o-meter

:D.


Pisang Rai
is good to be enjoyed both warm and (according to me) chilled :D. If you like it sweet, you can sprinkle it with sugar before it's served. It's the tea or coffee time's perfect mate.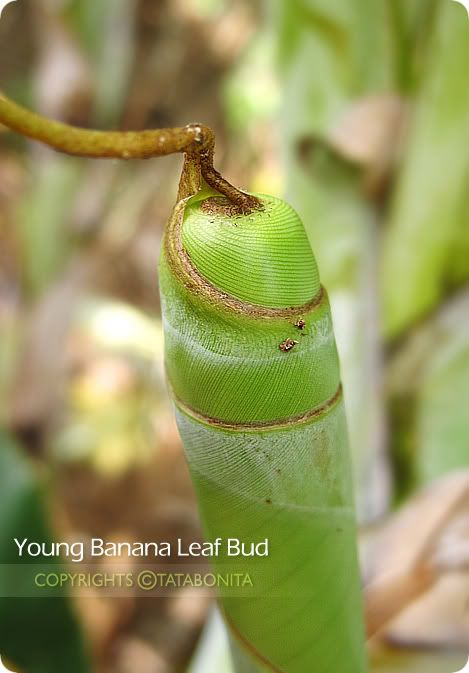 Have a great weekend, my sweet fellows!